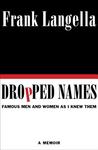 Dropped Names: Famous Men and Women As I Knew Them by Frank Langella
My rating: 4 of 5 stars
Up for review today we have Frank Langella's memoir "Dropped Names." What an extraordinary life this man has led. Mr. Langella is one of the few actors left today who can truly tell tales about other "classic" characters of old Hollywood and fame such as: Sir. Laurence Olivier, Elizabeth Taylor, Richard Burton, Yul Brynner, Rita Hayworth, Montgomery Clift, and a very well-known Camelot couple who lived in the White House once upon a time.
I'm not often drawn to reading the memoirs of the rich and famous but Mr. Langella has long been one of my favorite actors. Yes, I was just one of the countless women (well, girl at the time) whose jaw hit the floor when I watched Dracula and desperately wished I was Faye Dunaway as Mina Harker…"sigh".
Since I discovered that the audio book is actually read by Mr. Langella himself I chose to take that route for this book rather than simply reading it; after all…what could be better than actually hearing the words directly from the person's mouth who wrote them? I'm very happy I made this choice too, Mr. Langella has such a smooth voice and a very calm clear manner of speaking; it truly adds a whole different level of depth to this book, a level you wouldn't have the pleasure of experiencing reading it on your own. His wit and keen sense of perception and humor really shine through; you can truly hear his level of sincerity and compassion at many times for different people, as well as his lack of regard for a few.
What I appreciate most about this autobiography though is that he doesn't get snarky and nasty about those individuals he wasn't very fond of. Yes, he does make it clear that there are those he didn't get along well with or who treated him poorly but he doesn't stoop to slinging mud and over the time-span of this book there are plenty opportunities for him to have done so. I truly appreciate that he rose above that temptation. I know some people may enjoy when someone like Mr. Langella gets down and dirty about bad experiences and absolutely shreds others who have done them wrong but to me his refusing to do this really shows a level of class that too many of todays' stars are willing to sacrifice. He recognizes his own flaws and the flaws in others as well and is generous towards them in his recollections as a result.
One of the things I came away with after listening to this book is that no matter what he did, where he traveled, what level of fame he attained, or how influential the people were that he knew there always seemed to be an underlying humbleness of the fifteen year old New Jersey boy about him that you are introduced to through his own words. There is a man who has a deep kindness and compassion towards others and my admiration for him as a result is not only well founded by my own instincts it's reinforced by his own words.
If you enjoy reading memoirs I can easily recommend this one. I have no doubt I will go back and enjoy this a few more times myself.